28 febrero 2014
5
28
/

02
/

febrero
/

2014
09:38
VIETNAMESE TRADITIONAL MASSAGE
Dâm Bop Tâm Quât

Vịnh Hạ Long
In Vietnam, massage has been practiced as a medical method of preventing and treating diseases for thousands of years. Throughout Vietnamese medical history, many Oriental therapists in have written therapeutic massage books. Massage has played an important role in treating and preserving people's health.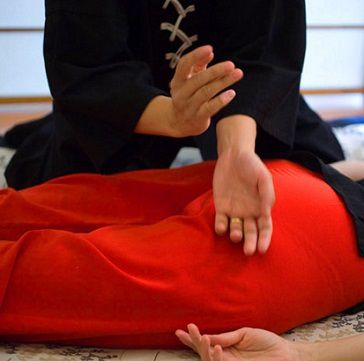 Dâm Bop Tâm Quât
Practiced for centuries by the people of Vietnam, the Vietnamese traditional massage is an amalgamation of two forms of massage from the north and south of the country. Have the logical  influences from tuina chinese massage and thai massage, because are very much nearly from those countries and cultures.. It uses the pressure of the fingers, palms and vibration.
A traditional Vietnamese massage, also known as "tam quat," (Tẩm quất) and Dâm Bop Tâm Quât… is an intense yet refreshing experience.
Although less popular than its Thai massage counterpart, Vietnamese massages can relax a body in a way like no other.
Build strength and endurance.  A Vietnamese massage is known for being powerful and initially tough on the skin and body. The benefits for your partner come after the session is done. As the masseuse, your entire body needs to be fully ready for the challenge before you even think about giving this type of massage. Lift weights and include cardiovascular activity in your routine so that your massages will be strong and will be able to last the full 60 minutes of a typical Vietnamese massage session.
Generate force. When you're putting pressure on a certain area of the body, use momentum and the full w

Dâm Bop Tâm Quât

eight of your whole body to apply as much force as possible. Take advantage of gravity to hit your partner's body with plenty of energy. Dig in by positioning your body over your arm so that your weight transfers to that specific spot. Give a hard rub to finish off the movement, and then prepare for the next area of her body.

Pull as much as you push. European people are accustomed to massages that involve using pressure, but Vietnamese massage takes it one step further and also incorporates a lot of pulling. Tugging at the limbs is a different way of encouraging blood circulation and also helps to reset joints. Hold your partner's limb at the wrist and elbow or ankle and knee, and pull toward you. Also try slightly twisting the limb and pulling in various directions.
Make sounds. The intensity of a Vietnamese massage is partly due to the various groans and shouts that the masseuse makes while carrying out the techniques. There's more power in a movement when you exhale and let your voice loose. When you make contact with the skin, release a grunt or a roar that signifies the effort you're putting into the act. Each movement should be accompanied by its own sound. The combination of skin pounding and slapping with your vocal exhalations is what makes the experience exciting for your partner.
Experience the magic of indulgence, vitality and relaxation with this Vietnamese massage. It is based on hand pressing and arm stroking techniques, performed in an empathic manner, in which the masseur does not decide on your behalf, how deep or intense the massage should be, but instead listens and tunes-in to your bodily needs on that particular moment and responds accurately. Then you feel heard, respected and glorious.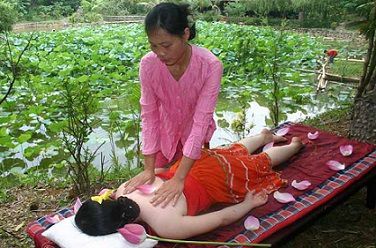 Vietnamese Massage techniques are different from those you know in western countries. Vietnamese masseuses do not hesitate to walk on your back directly to get a better effect. It's stronger and harder. It includes three types of manual operations, namely the mixing, kneading and vibration techniques.
The practice is done both soft and hard manner. The therapist, use strongly pressures of palms and fingers, sometime their feets are used.
The major lesson from this Vietnamese massage is: be generous to yourself.
[youtube http://www.youtube.com/watch?v=vrkvQYp9hsM?rel=0]
Source: http://www.ouse-an.com/